A Fairytale of Sipsco
is a Minecraft parody of the song "A Fairytale of New York". The song was witten and sung by
Yogscast
members Sips and Sjin for HoneyDew's Honey Drive and Christmas. It is based on a factory they both made that will soon produce dirt in their Tekkit series.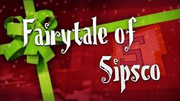 Money raised from the song went towards providing bees for Africa, to boost economies and provide income to poor families.
It's Christmas Eve bro
At Sipsco HQ
I'm all alone here, just like every year
I pour myself a drink
A pint of mountain dew
I raise my glass up high, and toast our old friend Guy,
Oh who's that bearded one
Outside, dressed like a bum
My god, it's freezing
But he's not squealing
He's got a plan I see
To build a factory
Won't make it on his own
Well I can change that...
We'll have girls big as cars
And a pool full of cash
The fun never ends
Throw your fears in the trash
When the first block of dirt leaves the factory floor
They'll be crying and begging and screaming for more
We can do it! Hooray!
Best dirt ever made
In a rainbow of flavours from bacon to lime
The best Christmas ever, shame about the weather
We'll hang tinsel and baubles and drink some mulled wine!
Pool boys from the interview chamber choir'll be singing Sips Co Hooray!
And the dirt will ship on out for Christmas day!
There's monsters about
And the power is out
The roof isn't done and it's covered in grime
There's a fire and a flood
And I'm covered in blood
Sipsco Christmas my arse, we won't finish on time!
Pool boys from the interview chamber choir still singing Sips Co Hooray!
But no dirt is shipping out on Christmas day!
Hey guys, you need a hand?
Well let's reform the band!
I'll build this factory
With new technology
This dirt is super pure
A hundred percent I'm sure
Come have a drink in here
The finest Sipsco dirt beer!
Pool boys from the interview chamber choir were singing Sips Co Hooray!
And the dirt was shipping out on christmas day!
The Youtube video has over 4 million views